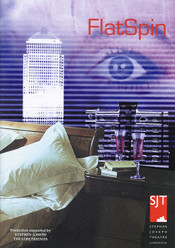 To navigate, use the links in the bar above or in the right hand column.


World Premiere:
3 July 2001

Venue:
Stephen Joseph Theatre, Scarborough

London Premiere:
7 September 2002

Venue:
Duchess Theatre, London

New York Premiere:
N/A

Venue:
N/A


Play Number:
59

Published:
Samuel French
,
Faber
Short Synopsis:
FlatSpin
is part of the
Damsels In Distress
trilogy: when a young woman pretends to be someone she is not, she is inadvertently drawn into a police sting to catch a criminal. But no-one is quite as they appear.


Availability
Amateur:
Apply to
Concord Theatricals
.

Professional:
Apply to
Casarotto Ramsay
.


FlatSpin
quote

"This time I am walking first, Sam. I mean, yes, in truth, you are somewhat unique. You're certainly the first man who's walked away before we've been to bed - but all in all you're just another bloody man and I've had it up to here with them, Sam, I really have."
All research and original material in the FlatSpin section of Alan Ayckbourn's Official Website is by Simon Murgatroyd M.A. and copyright of Haydonning Ltd. All other material is copyright of the named copyright holder. Please do not reproduce any material without permission of the copyright holder. For enquiries, email: archive@alanayckbourn.net